Relevant Notices Regarding Value-Added Tax


Dear customer:
Since July 1st 2021, EU countries will begin to charge value-added tax.
Since the parcels arriving at the customs on 7/1 will be required to pay Taxes regarding this policy, our website will start paying taxes and fees on June 27th.
At that time, when you purchase products on our website, you will need to pay corresponding taxes in accordance with the law.
Therefore, if you want to purchase on our website to enjoy tax-free service before June 27 as soon as possible.
A few important notes on the value-added tax policy of EU countries:
1) The tax exemption for small packages under 22 euros will be cancelled
From July 1, 2021, the previous tax exemption for small packages below 22 euros will be cancelled. In order to collect value-added tax, all imports into the EU must be declared at the border using electronic customs declaration forms.
2) E-commerce platforms and customs will assume the obligation of VAT collection
From July 2021, as an e-commerce platform, we will assume the obligation of withholding and payment of value-added tax. Therefore, you will find that our website will collect taxes and fees for regions in the European Union, and in accordance with the tax rate standards of the European Union countries.
Added Tax EU Countries List: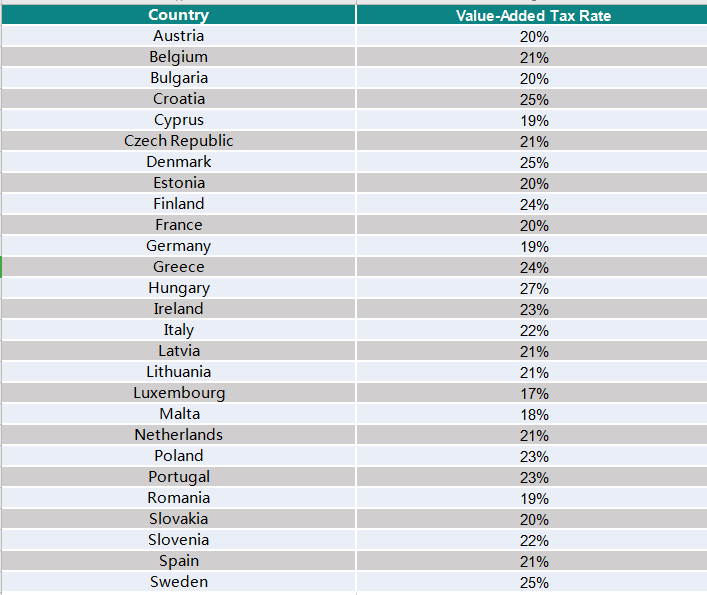 Sorry for the inconvenience, if you have any other questions, please feel free to contact us!